A tale of PR success on how a regional destination rebuilt its reputation within a changing media landscape.
Over 8 years ago, Chatterbox Marketing came onboard to assist the State Government with marketing the town of Marysville, Victoria… post Black Saturday bushfires. This was a new contract awarded two years after the devastation of this historic tourist town.
In summary, we became the PR Consultants for the Marysville Black Saturday Bushfires Regeneration Events Project (2011 – 2015) and worked for five years alongside the key stakeholders involved at the time: Murrundindi Shire Council, Yarra Valley Tourism, Regional Development Victoria, national media outlets and most importantly…local residents and local tourism and event operators.
On Saturday, 7 February 2009, the 500 residents of Marysville experienced one of Australia's all-time worst bushfire disasters. It was a devastating day for many Victorians. Eventually, 34 fatalities were confirmed in the Marysville area, with all but 14 of over 400 buildings destroyed.
From the ashes, rose an opportunity to positively help rebuild Marysville from the ground up. Chatterbox Marketing joined the Board of the Marysville Black Saturday Bushfires Regeneration Events team and played a pivotal role in developing and implementing this strategy.
Phase 1: Develop and implement a PR/marketing and events strategy to bring people back to the region.
Phase 2: Develop and implement an ongoing PR/event strategy to increase visitor stays in the longer term.
Stakeholders for this project included Murrundindi Shire Council, Yarra Valley Tourism, Tourism Victoria, Regional Development Victoria, local residents and local tourism and events operators. Whilst the starting point was one of devastation it is now one that is continuing to provide benefits for that community that is still rebuilding.
Here are some words from Chatterbox Co-Founder, Meg Law, on how we tackled this new project and what it means to reflect on this event on its 10 year anniversary.
Before I start, I will give you the heads up that I am about to get personal. I am about to go deep. I am about to not hold back on the many reflections passing through my mind as I write this today and reflect on the project that put Chatterbox on the map and the project that changed me as a person. A project that became so much more than just a PR project, it became a mission and one that shaped my career into what it is today. And for those that know me well, I wear my heart on my sleeve and being succinct is certainly not my forte. When the team encouraged me this week to write a blog about the time we worked with Marysville and their brief noted 'perhaps don't get too personal/cheesy and keep it high level'…suffice to say, that brief went WAY out the window, lol! Sorry folks…
So, pull up a chair, grab a cuppa and bear with me…
"How do you promote a town without a town?" I recall those words echoing through my thoughts as I accepted the challenge of our newest client – the Victorian State Government, to promote Marysville and Surrounds.
Marysville wasn't the only town that was affected by the aftermath of the Black Saturday devastation, there were countless others that are rebuilding their lives as we speak…but, it quickly became my town.
I still remember driving up the Black Spur to start the job and my mind was racing 100 miles an hour. How on earth was I qualified to walk into such a crisis of monumental scale and offer my assistance? What do I say to these strangers that have lost it all? You see, it wasn't just their livelihoods that were affected, we were dealing with people who had lost their loved ones, family members, partners and friends who had all been lost in the bushfires that took the State by surprise. Chatterbox had only just started and this opportunity seemed way out of our league!
But, these people from Marysville and Surrounds, who we met and got to know over the 5 years we worked on this PR contract, quickly became friends, and were indeed so inspiring that my small fears of accepting such a monumental contract (when Chatterbox had only just begun), were quickly tossed aside. I had a mission to complete to help these people and help this town get back on the map…and it was time to put on my big girl pants and get cracking.
Let me take you back to 2011. Two years since the fires. I was acutely aware of the fact that the media were experiencing what I like to call 'crisis fatigue' whereby the natural disasters and other floods, bushfires and droughts were all competing for airtime and whilst sympathy and empathy were high, so too, was a high degree of sensationalism and exploitation of various people affected by these disasters. How on earth were we going to be heard through the media clutter when timing was everything? Whilst two years had passed, we were still dealing with a highly emotional and sensitive situation with real people living real lives… feeling the harsh ramifications of the aftermath. On the other hand, having been a journo in my former life, we were dealing on the frontline with journalists and media who were on deadline and who considered 'Black Saturday to be old news' or only wanted to lament on the negatives.
Here was a town, two years on, that was still suffering and still somewhat despondent. There were shop owners operating out of old shipping containers, there were people bunking in with other generous souls whilst they attempted to rebuild their new homes or salvage what they could of their old homes.
What was left of the town, had, what I would describe, a blanket of sadness over it. A downright sad 'vibe' if you like. But, amongst all of that was once again the people. These people who got out of bed every morning, looked in the mirror tired and downright exhausted, yet who summoned their strength, courage and resilience, stood tall and strong and were willing to give it another crack. To make sense of what happened over those few days in 2009 is not possible, but to at least attempt to make sense of what we could all do to get the town on its feet again…that was indeed possible.
Together with a committed, determined team of locals and hard working legends…we worked in tandem with the State and Local Government to ascertain what the next few years could look like. We thought up new events to hold in the town that would beckon new visitors to come in droves to check out the NEW MARYSVILLE. Let's be honest, it was no mean feat. This once thriving tourist town had previously built its reputation solidly on its remarkable 150 year history, it's lush, green landscapes with waterfalls/tall towering mountain ash, fern gullies and a street full of unique retail offerings and tourism products…how were we to rebrand Marysville to make people realise we now only had a portion of this?
I recall attending several of these meetings over the first year of the contract and that drive up the Black Spur became a familiar route. These meetings were at times heated, highly emotional, volatile, scattered and often frustrating, but, it wasn't long before the sheer rawness of the fires and deep seeded grief was overtaken by a willingness to try new marketing initiatives to rebuild the town. At the end of the day, it was clear that everyone in that room had the same agenda and only one wish – to help the town spring back to life and thrive again, in its own unique way and with each of us having a significant role to play in this rebuild.
Our role was marketing and PR. We had to flip the media's mindset over a series of months and explain over and over again to various journalists, TV producers and radio, that there was now more to Marysville than just the fires. So, we set out on a quest of old school storytelling to find the characters within the region that had a story to share. And boy, did we find some beauties!
We told tales and stories of resilience, overcoming fear, adversity, new milestones…and all of a sudden we were getting picked up by loads of media outlets who wanted to share the journey with the readers/viewers/listeners. This positive spin on an otherwise sombre backstory was what everyone was craving. We no longer focused on what was, but what could be. And at the heart of every one of our media releases, pitches and youtube clips  – was the people. 
Over time, we shifted from storytelling and character mode to showcasing new events in the town, announcing new retail shops opening, new culinary delights being made again by a local patisserie and new cafes re-opening the doors. Meanwhile, the trees started sprouting again and bursts of colour and greenery was popping out of the blackened landscape…and it was suddenly abundantly clear that this town was back on its feet again with a new spring in its step.
After a year or so of gaining positive media exposure and successfully spreading the word about the new Marysville, we came up with a new social media campaign. At the time, Instagram was just taking off and so we thought we would capitalise on this new platform and teach the local residents, volunteers and business owners how to use this. We ran a series of training workshops in Marysville that were both informative and at times, downright hysterical – we were literally dealing with people who had those walky talky phones with antennae and no way of downloading the Instagram app. With patience and a lot of laughs, we all worked together and in no time people were understanding the value of hashtags and how to tag in like-minded businesses as well as how to capitalise on industry support from the social media guru's like Tourism Victoria and Tourism Australia.
And hence…one of our favourite Chatterbox campaigns was born and to this day, a campaign that still makes my heart sing. Introducing There's Something About Marysville.
At a time when only one Instameet had ever been held in Australia, we set about developing a comprehensive itinerary of the new Marysville hot spots and photographic icons and invited a hand-picked selection of social media influencers (bloggers and Instagrammers) to Marysville. I recall my husband and co-founder of Chatterbox, Matt Jones, had to pick up the Instagrammers in an 8 seater bus from Melbourne Airport and was their host for the 3 days.
The hashtag #mymarysville was born and playing off the classic 90s Cameron Diaz movie, we came up with the below campaign and the rest, as they say, is history!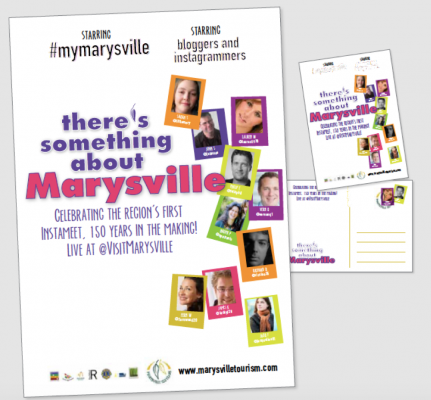 $4,037,630 ave (advertising value equivalency) of media free coverage including all radio interviews, online mentions, print and tv news coverage.
Over 14,500 hits on youtube (video blogs)
Social media
Brand awareness amongst visitors
Significant media recognition 
Despite the above successful results and the contract deemed a success by the State Government, this obviously meant so much more. On a business front, not only did we achieve great notoriety in the tourism space and recognition from peers on the tireless work we completed, we also went on to win several other larger contracts from other Victorian based tourism attractions and destinations wanting to know what our winning formula for PR success was…we even went on to win a National PR Award for our efforts in promoting Marysville…but, as I say, it was so, so much more.
It was the key learnings from working on this project that I will never forget. It was learning how to deal with the sensitivities of the issue, how to communicate effectively with the locals when I was coming in cold with no connection to their hometown. It was learning how to collaborate effectively and negotiate with complex large entities including State Government and local Council groups. It was growing a big heart, developing a strong listening ear, learning empathy first hand and knowing how to hold the hands of a local business owner over a cuppa as they spill out their story to you with raw, emotional vigour. It was calling people at 5am to be interviewed on radio and prepping them with key messages in the wee hours of the morning. It was standing on the sidelines cheering as the town held their first event, it was nervously waiting on the side of the road for TV crews to actually turn up as they had promised and run a positive story that would benefit the town. It was having a beer with new friends in Marysville after a long meeting and laughing over the boardroom tantrums we had witnessed (okay, possibly got involved in occasionally….) and most of all, it was seeing a town (that was once not a town) get back on its feet, dust itself off and thrive again.
A big shout out to all the people involved with this project over the many years and for letting a complete stranger into your community and your hearts to fulfil our job. I obviously won't name everyone but I would like to say a special thanks to Marysville locals: Christine, Ken, Graham, Dianne, David, Bob, Trudi, Bruno, Kim, Ashraf, Christine, Mitch, Michael, Sharen, Terry, Julia, Anthony and the many others I haven't mentioned.  Your stoicism, strength and friendship makes you heroes to me. Thank you for the opportunity.